Culinary Recipes of the Season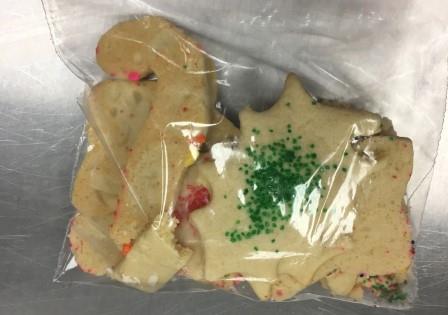 Bar Cookie Brownies
One of the recipes of the season are brownies. This recipe is good if you want to have chocolate.
Wet ingredients 
½ cup butter (1 stick)
1 cup of white sugar
2 eggs
1 teaspoon vanilla extract
Dry ingredients
⅓ cup unsweetened cocoa powder
½ cup all-purpose flour
¼ teaspoon baking powder
Directions
Preheat oven to 350 degrees F(175 degrees C). Grease and flour square pan.
In a saucepan, melt ½ cup butter. Remove from heat and place in a large bowl, stir in sugar, eggs and one teaspoon of vanilla. In a second bowl, sift ⅓ cup cocoa ½ cup flour, salt, and baking powder. Slowly add dry to wet bowl until incorporated. Spread batter into prepared pan. 3. Bake in preheated oven for 25 to 30 minutes. Do not overcook.
Soft oatmeal cookies
Oatmeal Cookies
The next recipe of the season is for oatmeal cookies. You could have the oatmeal cookies with or without raisins. Either way they are very good.
Ingredients
1/2 cup butter, softened
1/2 cup white sugar
1/2 cup packed brown sugar
1 egg
1/2 teaspoon vanilla extract
1 cup all-purpose flour
1/2 teaspoon baking soda
1/2 teaspoon salt
3/4 teaspoon ground cinnamon
1-1/2 cups quick cooking oats
Directions
In a medium bowl, cream together butter, white sugar, and brown sugar. Beat in egg, then stir in vanilla. Combine flour, baking soda, salt, and cinnamon; stir into the creamed mixture. Mix in oats. Cover, and chill dough for at least an hour.
Preheat the oven to 375 degrees F (190 degrees C). Drop cookies by tablespoon and place 2 inches apart on cookie sheets.
Bake for 8 to 10 minutes in preheated oven. Remove from baking sheet onto a cooling rack.
Sugar Christmas Cookies
The last recipe of the season are sugar Christmas cookies. Although they are plain because they have nothing special in them the design of the cookies make them perfect for Christmas. Also the reason why they are great is not because of their diversity from other cookies but the fact that you can decorate them with sprinkles.
Ingredients
1 ½ C flour
½ tsp baking powder
¼ tsp salt
½ C sugar
½ Cup butter, softened
1 egg
1 ½ T milk
1 tsp vanilla
Directions
Cream butter and sugar until light and fluffy.
Mix in liquids => milk, vanilla, eggs.
Add dry ingredients =>flour, baking powder, salt.
Roll out around ¼" thick. Use cookie cutters to shape.
Bake at 350° for around 10 minutes or until light golden brown.
Allow to cool => decorate.