Social Media: The Medium of Choice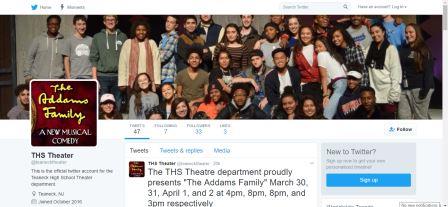 The Teaneck High School Theatre Department has officially put themselves out there on the internet. They have made a new account on four different platforms ensuring they reach a multitude of kids out there.
The Theatre Department has appointed senior, Ryan Burke, as the public relations officer for the club. Mr. Burke does photography for various occasions for the school; this shall just be another notch on his belt.
The Theatre Department is far from the first club to expand their horizons to the internet. Recently even the office has released its own account for the morning announcements to be read. In cases that one can't hear the announcements for whatever his or her reason, one can go on twitter and follow @TeaneckHigh for the news.
Social media is a necessity in this day and age; almost as crucial as food and water. The Teaneck High School Theatre Department is catching up with the times. One can follow them on Snapchat(@THStheater), Twitter(@TeaneckTheater), Instagram(@THStheaterdept), and on Facebook(@THS Theater Department).