Art Around the School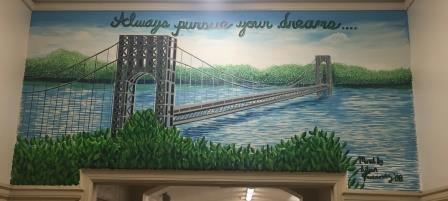 Have you ever noticed the art around the school? From in the hallways, to in the Student Center and inside the art room there is art everywhere. Around Teaneck High School you can see many famous artworks from famous artist such as Vincent van Gogh's Starry Night. There are also paintings created by students.
On the first floor next to the small gym there is cheerleader mural. This artwork is to support the cheerleaders and promote others to join the sport. The painting also surrounds the case where all the trophies the cheerleaders have won are housed. In the painting the cheerleaders are cheering and they all have no faces.
On the second floor there is a chorus mural by the door where the chorus room is. It has lots of people without faces singing with long cloaks. This is to inspire other people to join chorus.
Near the art room, on the third floor there is another mural. The mural says "Always pursue your dreams" This inspires students to become better at academics and believe in themselves.
These examples are only a few that you can find around the school. There are paintings in the hallways, murals in the Student Center, and much more. If you are interested in art you can join the Art Club. The club meets on Tuesdays in room 327.